Leicester Employability Day Welcomes MP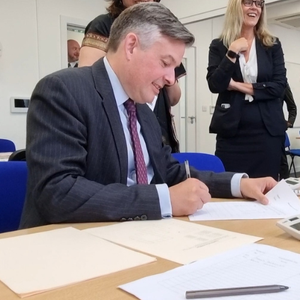 On Friday we were pleased to welcome the local MP to our Leicester office to celebrate Employability Day.
Held annually, and co-ordinated by the Employment Related Services Association (ERSA), Employability Day is the UK's largest celebration for organisations supporting local people to gain, sustain, and progress in work.
The theme for 2023 is 'Working for Better Work', and as a provider of several employment schemes aimed at getting people into sustainable jobs, we strongly believe in this concept. 
Our employer engagement team in Leicester organised an event for the day, inviting 15 local employers to our office to meet with participants to discuss open job opportunities and answer any questions they had.
We also held workshops throughout the day with participants. Working together as a team to complete a task, participants were able to improve their soft skills, and network with each other. 
We were pleased to welcome local MP, and Shadow Secretary of State for Work and Pensions, Jonathan Ashworth, to the event. He spent his time at the office speaking with local employers and participants, as well as taking the time to talk to our staff, to understand what we do. 
The event was a great success, with over 100 participants coming to the office, meeting with employers, and taking part in workshops together. We hope we're able to hold another event soon!